Résumé
Ceci n'est pas une formation "Web hacking". C'est une formation destinée aux Web hackers qui veulent maîtriser leurs outils.
Sujet
Burp Suite Pro est le "proxy offensif" le plus utilisé lors d'audits d'applications Web. Grâce à la maîtrise de cet outil, le temps consacré à la phase d'audit technique est largement optimisé. De plus, l'usage avancé de Burp Suite Pro permet de détecter et d'exploiter de nouvelles vulnérabilités, complexes ou subtiles. En plus de la maîtrise de l'outil, les stagiaires apprendront à mesurer le succès de leurs attaques, compétence indispensable en conditions réelles.
La plupart des fonctionnalités sont couvertes, incluant les plus récentes comme Infiltrator (IAST sur applications Java et .Net). Des stratégies ou techniques alternatives seront présentées afin de donner une large vision des possibilités offertes. Les nombreux challenges disponibles (même apr&eagve;s la formation !) couvrent évidemment les applications Web classiques, mais aussi les clients légers, applications mobiles, Web Services SOAP et REST, plateformes d'e-commerce, ...
Public attendu
Cette formation est principalement destinée aux personnes réalisant des tests intrusifs applicatifs et bug bounties. Toutefois, d'autres profils (comme la QA) bénéficierait des compétences présentées. Quel que soit votre profil, cette formation vous apportera des compétences significatives en automatisation d'interactions Web. Et cela que vous soyez débutant (ayant utilisé la version Free quelque fois) ou expert (utilisant la version Pro depuis des années).
Challenges
Chaque élève suit le tronc commun, composé d'environ 100 challenges. De (très) nombreux autres challenges sont disponibles, en fonction de votre rapidité, de vos goûts, de vos compétences et de vos besoins professionnels. Aucun risque de s'ennuyer !
Parmi les challenges disponibles : brute-force complexe, extraction de données, support de formats exotiques, gestion automatique des jetons anti-CSRF, cryptographie faible, webhooks, injections NoSQL, autorisation vs. authentification, déconnexion automatique, désérialisation Java, XSS en aveugle, applications Java instrumentées, APIs avec authentification JWT, workflows stricts, ...
Les challenges sont hébergés au sein d'une infrastructure Docker totalement autonome (une vingtaine de containers) qui est fournie aux élèves à l'issue de la formation. Super facile à utiliser : installez Docker, tapez quelques commandes et profitez des challenges !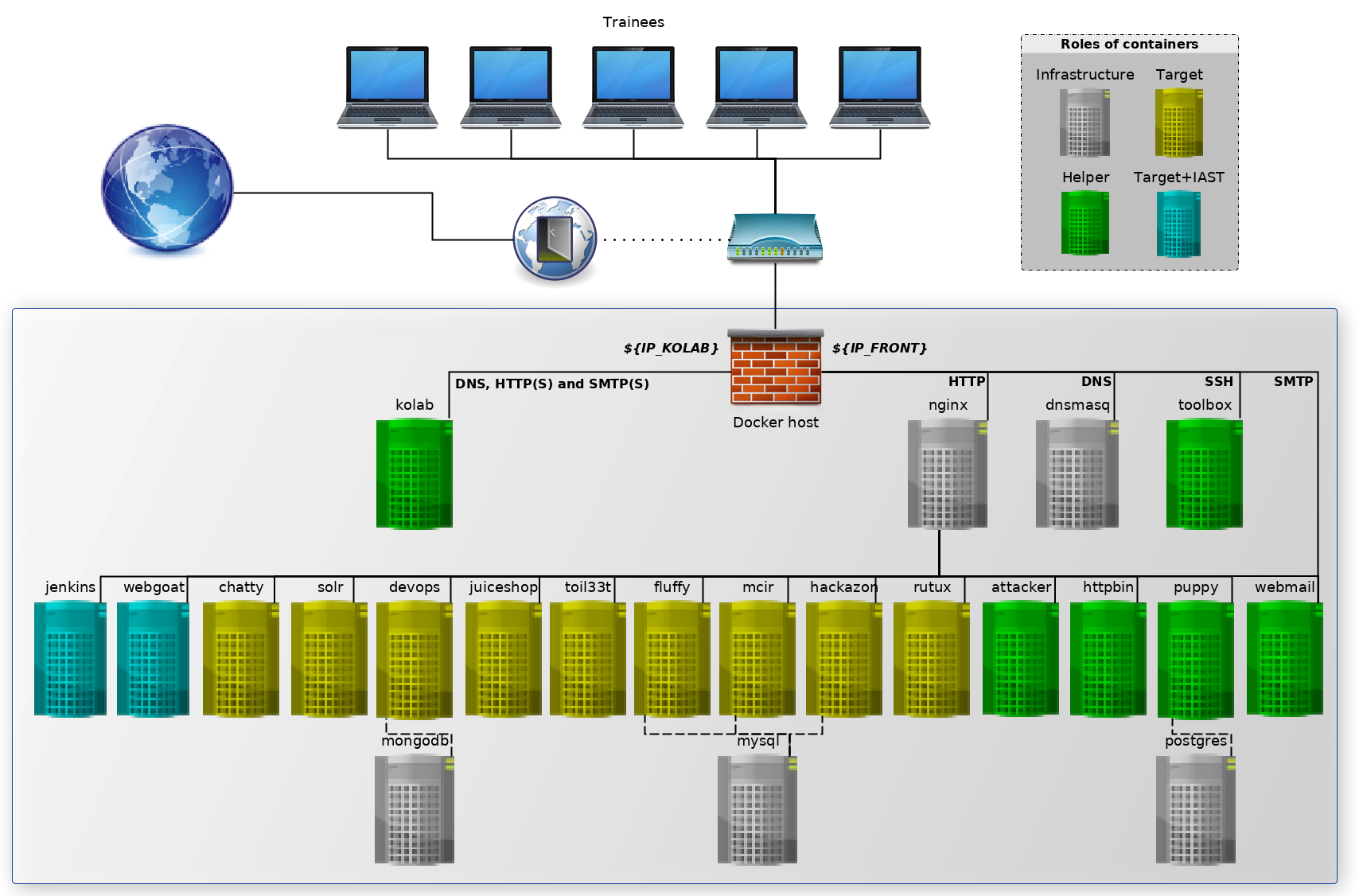 (cliquer pour agrandir)
Prérequis
Connaissance basique de Burp Suite (utilisation de la GUI navigation, interception et rejeu)
Ordinateur portable (avec connectivité Wifi/Ethernet)
OS 64 bits supporté par Burp Suite Pro (Linux, Mac, Windows)
Version récente de la JVM Oracle 64 bits (peut être installé grâce aux "bundles" Burp)
Licence pour Burp Suite Pro (des licences temporaires peuvent être fournies)

Navigateur moderne (ni IE6 ni Epiphany)
Jour 1
Le premier jour est consacré à des tâches bien définies, où l'objectif est de trouver un flag, comme dans un CTF. On couvre les fonctionnalités basiques d'automatisation avec Proxy, Repeater et Proxy.
Introduction
GUI, tools, shortcuts, inline help, ...
Proxy
Defining the scope, filtering and sorting data, ...
Repeater
Exploitation of the D-Link DIR-100 backdoor, efficiency tips, ...
Intruder
Most payload types, anti-CSRF tokens without macros, data extraction, ...
Jour 2
Le second jour, les challenges deviennent plus complexes : il est nécessaire de comprendre le fonctionnement de l'application visée, mais aussi de chaîner plusieurs des outils intégrés à Burp Suite Pro.
Advanced Intruder
Customized wordlists, exporting results, time-based feedback, ...
Advanced Proxy
Live modifications, interception and manual analysis, ...
Data frobbing
Dealing with opaque chunks of data
Macros and sessions
Anti-CSRF tokens, short-lived sessions, strict workflows, ...
Jour 3
Le troisième et dernier jour se déroule différemment des précédents. Après avoir introduit de nombreux sujets avancés, je laisse les stagiaires sélectionner ceux qui les intéressent. Ils passent alors le reste de la journée sur ces sujets.
Highly useful extensions and third-party tools
Logger++, AutoChrome, ...
Tools for authentication and authorization audits
Authz, Compare Maps, AuthMatrix, ...
Advanced automation
AngularJS and blind XSS, dynamic external references, ...
Web Services
SOAP and REST interfaces, JWT authentication via macros, ...
OOB communication via Collaborator
Set up your own instance, interact manually
IAST with Infiltrator
Instrumented version of Jenkins and WebGoat are available
Automated and headless usage
Fine tuning, using REST interfaces, ...
Advanced Web exploitation
Java deserialization, weak cryptography, complex macros, ...